25/07/2019 Summer holidays
Our company will be closed for summer holidays from Wednesday August 8 to Sunday August 25 included. Operation will be resumed on August 26. For urgent matters please email us. Emails will be checked from time to... read more...



27/02/2019 New Distribution agreement for UK
2018 saw LDR celebrate its 20th anniversary and renew our commitment to innovate and bring to market products of quality that support the core needs of specialised lighting in the entertainment technology market. From the... read more...



10/10/2018 Presenting the ASTRO WI-FI RGBW
Presenting the brand-new ASTRO WI-FI RGBW followspot, which was included in the Plasa Awards for Innovation. For more information on our new products, to receive samples or get a quote please navigate our website or... read more...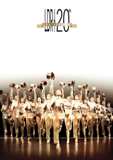 06/04/2018 New LDR Catalogue 2018
The new LDR 2018 catalogue is now available. It includes all the new products being presented at the PLS Show as from April 10, 2018 and it will be handed out to all those who... read more...



12/04/2017 PLS Frankfurt - a great success
LDR is back from Pro Light & Sound, which has been the most successful show for us in recent history!After having decided not to exhibit last year; LDR's presence at this year's show created a... read more...



03/04/2017 New LED Catalogue 2017
The new issue of the LDR LED Catalogue 2017 is now available for distribution.A PDF version,can be downloaded from the Publications section of this website, whereas printed copies can be obtained on demand at our... read more...



13/04/2015 New Full Catalogue 2015
The new issue of the LDR Full Catalogue 2015 is now available for distribution. A new, attractive cover, a new format and layout guide you through the whole range of LDR products, supporting your choice... read more...



04/12/2013 LDR appoints Theatrelight NZ as exclusive distributor
LDR is proud to announce that Theatrelight NZ has been appointed as exclusive distributor for New Zealand. The joint decision has been made after meetings at the Plasa Show between Lisa Papi, of LDR and... read more...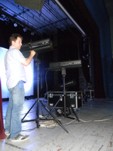 08/08/2013 Top-of the range LDR products launch in Slovakia
Recently appointed LDR distributor for Slovakia, City Light, organized an extremely successful and fully attended 2-day product launch in Jumbo Centre, Kosice (June 24, 2013) and in Banska Bystrica's local theatre Dance Studio (June 25,... read more...



25/07/2013 New distribution agreement for the US
We are proud to announce a significant change in our distribution policy for the USA. Effective from July 31, 2013, LDR will cease the cooperation with Ballantyne-Strong. Ballantyne-Strong proved to be a professional and dedicated... read more...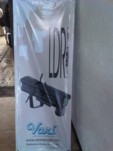 18/03/2013 New distribution agreement for Mexico
LDR partners with TOP regional distributor , VARI Internacional to accelerate growth in Mexico and Central America.LDR continues to reinforce its distribution network by appointing VARI Internacional as Exclusive distributor in MEXICO for the whole... read more...



30/08/2012 Alba: a fast growing success
We are proud to announce that our largest single order for ALBA 200W LED zoom profile spotlights to date is for the Vanemuine Theatre in Tartu, Estonia. Local distributor E&T Ltd is currently upgrading &... read more...



06/06/2011 LDR lights for Ngee Ann Convention Centre in Singapore
Ngee Ann Polytechnic is one of Singapore& 39;s leading institutions of higher learning. In recognition of its dedication to world-class education the institution has garnered numerous awards, including the People Developer Award and ISO9001:9002 certification.Located... read more...



03/06/2011 UB40 for peace
The iconic British reggae group UB40 performed live in Windhoek (Namibia) for a 3 day event at the Hage Geingob Stadium, in aid of the Hope Village Trust for the construction of a Hope Village... read more...



02/05/2011 New Xpress catalogue
The new issue of the Xpress 2011 catalogue is now available for distribution. A new, attractive cover, a new format and layout guide you through the various models of scrollers and the many accessories, supporting... read more...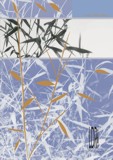 12/03/2010 New LDR catalogues
The 2010 issues of the brief and full catalogues are now available, together with the new price list and CD.Just contact our office to order some copies or download the catalogues from this website in... read more...



26/06/2007 LDR FLYING HIGH
LDPS NZ LTD have just completed one of their most adventurous projects to date, The Omaka Aviation Heritage Centre was officially opened on December 8, 2006, unveiling a unique visitor attraction and significant asset for... read more...



13/11/2006 White Canto followspot
The white Canto followspot has been specifically developed for houses of worship and for applications where a totally white followspot is required. "We listened to our customers and they told us white followspots would fill... read more...



10/11/2006 New product range at PLASA
A complete range of pole operated fresnels has been recently introduced by LDR. The Pole operated products are built around the well known LDR Fresnles (Nota/Tono and Soffio/Suono D) and can be offered with... read more...



04/08/2006 One year of Exhibition
From the smallest (Super Saturday lighting show in NY city) to the biggest (Palm show in Beijing) click on the picture to watch the photo collection . Dubai - Palme 2006 Dubai - Palme 2006... read more...



19/09/2005 Plasa 2005 - new products
A warm thank you to all those who have paid a visit to our stand during Plasa 05 and who have made this show a great success for us. Plasa 05 has also bee the... read more...



03/05/2005 ProLight&Sound, Frankfurt
A warm thank you to all the dealers, visitors and friends who paid a visit to our booth during the show. The show this year reported a huge number of visitors from different parts of... read more...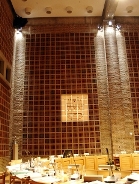 18/02/2005 LDR luminaires brighten Aalborg
Denmark - The Council hall of Aalborg, the 4th largest city in Denmark, north Jutland, recently renewed it's lighting looks with a batch of Soffio luminaries. During the project's design phase, Bico Professional A/s, dealer... read more...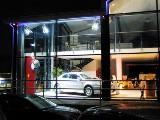 08/11/2004 Lighting the beautiful Alfa's
Denmark - Bico Professionel A/S, the Danish dealer for Italian manufacturer LDR, has recently specified and installed a batch of Suono F250 MSD luminaries to illuminate the new Alfa Romeo showroom in Birkeroed close to... read more...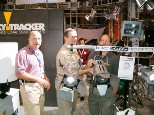 05/11/2004 LDI 2004
the LDI 2004 photo collection Arthur Huang from JAS (taiwan) with Fabiano and Lisa Canto 1200MSr with the new under hung yoke Canto on show during the show Fabiano and Lisa with Daxter and Merlyn... read more...



02/11/2004 Light and Sound -Lucerne-
Luci della Ribalta in co-operation with the Switzerland dealer Eclairage Theatre s.a. exhibited at the Light and Sound exhibition. The well organized show took place in Lucerne (October 16-18) and registered a high number of... read more...


14/10/2004 Launch of the new Canto 250HR at LDI SHOW, Las Vegas
We are proud to announce the lauch of the new Canto 250HR ceramic followspot, the result of the excellent cooperation between Philips Lighting and LDR. The new Canto 250HR is based on the new ceramic... read more...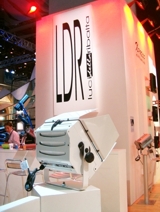 24/09/2004 PLASA 2004
The PLASA show 2004 picture gallery View the pictures gallery Andy Collier Benoit and Vincent David and William of Macostar HK Dieter Boehm an Harry Ratzer during the show 01 during the show 02 during... read more...



10/09/2004 NEW RANGE OF LDR COLOUR SCROLLERS
We are proud to announce the official launch of a new range of LDR colour scrollers, which will take place on Sunday September 12 during the Plasa Show in London. The new range, called XPRESS... read more...


01/09/2004 NEW PRICE LIST
The new issue of our price list, in force as from September 1, 2004, has been published. Should you have not received a copy by email, we kindly ask you to contact our sales department... read more...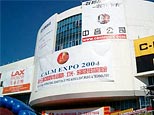 11/06/2004 Calm Expo 2004
Following the Marco Polo path and in co-operation with our local dealer MACOSTAR, we recently exhibited at the CALM show in Beijing. With an incredible number of Chinese visitors and a substantial number of overseas... read more...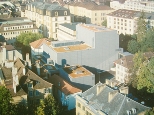 11/06/2004 A day In Switzerland
On Tuesday 18th of May Lisa Papi and Fabiano Besio crossed the Swiss border for a one day visit to the local LDR dealer ECLAIRAGE THEATRE in Lausanne. Founded by Mr. Pius Frey, ECLAIRAGE THEATRE... read more...


24/05/2004 New mounting plate for the Express 12CE scroller
Further to the great success and high demand on the Express colour scroller range, we are happy to announce that we have recently introduced a new mounting plate for the Express 12CE model. The new... read more...



13/03/2004 SIB 2004 pictures gallery
view the SIB 2004 picture gallery view the SIB 2004 picture gallery view the SIB 2004 picture gallery view the SIB 2004 picture gallery view the SIB 2004 picture gallery view the SIB 2004... read more...



14/01/2004 LDR light-up the dark Swedish winter:
The façade of the Ahlens Holmshopping centre in Stockholm. Twelve special versions of the Canto 1200MSR followspot light up Stockholm s most important shopping centre façade. Located in the heart of the city, close... read more...



24/10/2003 Special Soffios for the Riksmuseet, Stockholm
A batch of 12 customized Soffio f150 has recently been delivered to the Natur Historiska Riksmuseet (Swedish Museum of Natural History) in Stockholm. The Soffios have partly been re-designed in order to be able to... read more...



09/10/2003 LDR training course in Hernani (Spain)
A training course on lighting techniques has been held last week by Fabiano Besio in Hernani (Spain). The course, very well organized by Mr. Ramòn Setièn of Pro-Lighting, LDR distributor for Spain, has been held... read more...